Your roof is one of the most essential features of your home. It protects its structure, your family, and your valuable possessions. Because of this, you should contact a reliable roofing contractor to complete roof repairs as soon as possible. Since every job is different, it's important to ask your roofer clarifying questions before they begin the repair process. Here are a few important questions we have highlighted that might help with guiding the conversation.
1. Is Your Team Properly Certified and Licensed?
You don't want to be liable for potential injuries on the job or damages to your property. Be sure to ask if the contractor is properly licensed and certified for your specific job and whether they are insured. In case of an accident, it's important contractors have workers' compensation and liability insurance to protect you. If they aren't properly insured, you could be responsible for potential damages.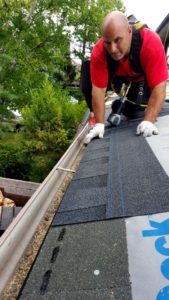 2. Do You Offer a Warranty?
It's a good idea to ask about a warranty in case further damages occur after the repairs are completed. Ask your contractor how long the warranty is valid for and if it will add to the total cost of the job.
3. What are the Steps of this Process?
It's important that you, as the homeowner, are aware of every step of the repair process. Ask how they plan to navigate the repairs and what safety precautions they will take. Also, ask how they intend to dispose of any excess materials and how they will protect your gutters and lawn from damage.
4. How Long Have you been in Business?
Be sure to ask about a contractor's time in the roofing business, as this could give you a good idea of their overall experience. And don't be afraid to ask for pictures of past jobs so you can see their work. In addition, you can ask your contractor if they provide references from previous customers.
5. How Long will this Process Take?
Ask your contractor how long they estimate the job will take and how they plan to address any potential obstacles that could extend that time. For example, if they are delayed by weather, will they hire extra employees to complete the job on time?
Contact the Experts in Roof Repair
Crosby Roofing and Seamless Gutter is here to address your roof contracting needs and ensure your home and family are protected. Have any questions we can help answer? Contact our professionals today or get signed up for a free estimate.