HIRING THE RIGHT ROOFING COMPANY
When it comes time to replace your roof, hiring a roofing contractor is an enormous responsibility. After all, they will be handling a crucial part of your house that ensures your safety from harsh wind and rain. Therefore, it's imperative to choose someone who knows their work inside out.
Ideally, you would want to entrust your home to someone who has a deep understanding of their profession. Someone who has earned an advanced certification or degree that represents the highest level of education and experience in their field.
Therefore, hiring a Certainteed Shingle Master Select contractor is the way to go. Look no further than Crosby Roofing, a leader in the roofing industry for over three decades, dedicated to providing you with the highest level of workmanship and exceptional service.  In this article we are going to explain what the Certainteed Shingle Master Select certification means, and how it helps the homeowner make an easy decision on hiring the right roofing company for their home.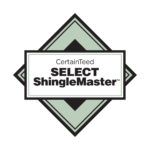 WHAT IS A CERTAINTEED SHINGLE MASTER?
Earning certification as a Select Shingle Master is a rigorous process that involves several steps, including educational and accreditation programs. As a result, Select Shingle Masters have a unique advantage over other roofers in the industry, equipped to handle even the most challenging situations. Their expertise shines through in their execution of tasks and unwavering determination to deliver outstanding results.
Moreover, Select Shingle Masters follow a comprehensive code of ethics covering artistry standards, legal compliance, customer service, and business administration. Maintaining a customer satisfaction rating of four or higher on a five-point scale is also a requirement for these customer-focused companies.
As a result of their Select status, their company stands out among competitors in the market, and only Select Shingle Masters are authorized to offer Sure Start Plus 5-Star coverage. Crosby Roofing  has achieved CertainTeed's most advanced credential, reflecting the highest standards in the shingle roofing industry.
Choosing an Integrity Roof System installed by a Select Shingle Master guarantees you Sure Start Plus extensive coverage. With CertainTeed roofing products that are made with top-quality materials using advanced manufacturing methods, roof problems rarely occur.
Being a CertainTeed Select Shingle Master contractor is not something every roofer can claim. These contractors do not just provide exceptional roofing products but also offer exceptional customer service. Trusting one of them with your home's roofing needs can give you great comfort. After all, who wouldn't want the best for their home?
Reach out to Crosby Roofing today to see if we are the right fit for your roofing repairs or roof replacement! Crosby Roofing services Columbia SC, Augusta GA, and Macon GA!